Ahhh…Christmas! It's the time when homemade gifts are filling our stockings and lining our pantries.
I absolutely LOVE Christmas gifts made with love, don't you?
If you're all out of DIY, homemade, made with love, super thoughtful Christmas gifts, you'll enjoy digging into this HUGE list of Christmas gifts you can actually make!
Even busy moms can whip these up! <3 Be sure to let me know which ones you tried and loved!
25+ Christmas Gifts You Can Make
Oooh! This DIY Christmas Cookie Cutter Set from Yellow Bliss Road is perfect for the baker friend in your life!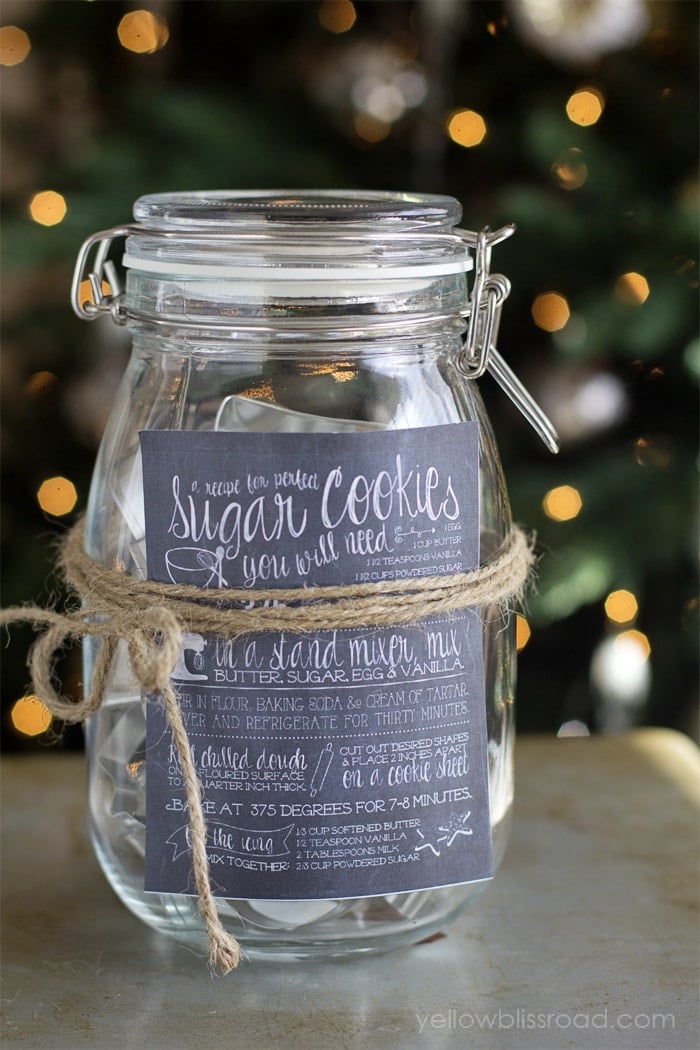 How sweet are these Dip Mix Ornaments from Sprinkle Some Fun?!
Candy canes are good for more than just eating! DIY Candy Cane Sleigh Gift Card Holder from Dear Crissy is sure to be a hit this holiday season!
I have quite a few friends who would SQUEAL for these Easy Essential Oil Christmas Gifts from Unskinny Boppy.
Busy moms need time to unwind, relax and soak. Definitely consider giving this DIY Spa Gift Basket from Pastels and Macarons to the tired mom in your life!
DIY ornaments are the best! Can't wait to try making thesePeppermint Bath Salt Ornaments from Domestically Speaking!
When the weather gets chilly, keep your loved ones warm with this DIY Winter Hat from WellNesting. Too cute!
Bring on the tea and we'll make a Tea Bag Christmas Tree from I Choose Me!
Mmmm…I bet these Peppermint Bath Salts from Creative, Clever and Classy smell ever-so-festive!
Coolest. Thing. Ever. DIY Tile Photo Coasters from PopSugar Smart Living are super unique and thoughtful — and that equals TOTALLY cool in my book!
One of my fave drinks during the holiday — apple cider! This Hot Apple Cider Cinnamon Spice Mix with Free Printable from Savory Nothings looks so good! And the free printable adds a cute touch!
These DIY Fleece Blankets from It's Always Autumn are a busy mom's best friend! You won't believe how super-easy they are to make!
Great gifts for guys! DIY Shaving Cream and aftershave from Life Your Way would make a perfect stocking stuffer!
Pretty! Pretty! These Personalized Holiday Soap Bottles from The Idea Room are sparkling with holiday cheer!
Handmade Rudolph Towels from Hello Creative Family add holiday warmth to a friend or family member's home! I'd love one of these myself!
These DIY Pine Cone Fire Starter Favors – Something Turquoise are too cute to miss! Definitely a creative Christmas gift you can make!
Chalkboard Christmas Trees from Ginger Snap Crafts will be perfect for all the chalkboard decor fans in your life!
Homemade sugar scrubs are the BEST for giving yourself suer-soft skin and a luxurious bath or shower experience. These Gingerbread Sugar Scrub Cubes from A Pumpkin and A Princess are the perfect DIY scrub choice for the holidays!
Know anyone addicted to coffee? They leap for joy when you give them this Homemade Holiday Coffee Gift from Club Chica Circle.
Yummy, yum, yum! Culinary Christmas Gift Baskets from DIY Network make any foodie smile!
Definitely consider this Snow Day Survival Kit from The DIY Mommy for your friends who live in colder states!
Too cute! S'mores Mason Jar Gift from A Night Owl is a classic, but super-cute gift to give out this Christmas season!
Peppermint Snowflake Shower Bomb from Pink When is a simple, but super creative Christmas gift you can make yourself!
Love these DIY Ornaments from Country Living!
These Flannel Scrap Reusable Hand Warmers from Sadie Seasongoods will come in handy during the chilly months!
Who doesn't love Christmas cookies? This Christmas Cookie Jar Gift from Lil Luna takes the love of cookies and turns it into the perfect Christmas gift!