This post was sponsored by Lowe's as part of an Influencer Activation for Influence Central and all opinions expressed in my post are my own.
Pumpkins, autumn leaves, and mums are here! It's my favorite season of the year — FALL!
And I'm a busy mom, but these super-cute, diy fall wreaths are so simple that even busy moms can find time to make them!
Improve your home's curb appeal and welcome your guests all season long with a creative and unique wreath for the front door.
Think you don't have time to decorate your home for fall? With a little help from the Fall Decor products available at Lowe's, you can have your front door dressed up for the season in no time! In this post, I'm sharing Five DIY Fall Wreaths that are so creative, fun, and unique that they are sure to be the talk of the block! The best part is that each of these unique ideas is super simple and easy to put together.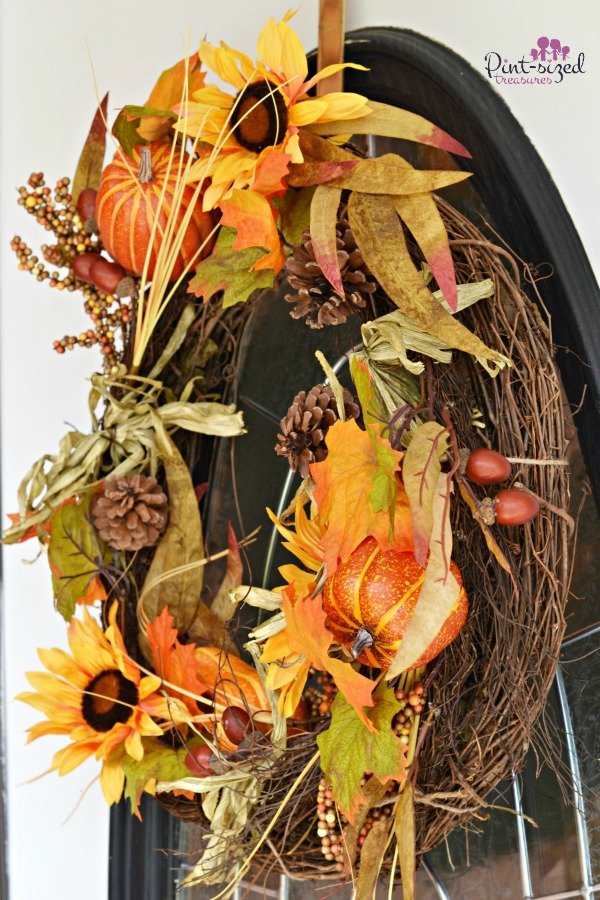 What do you love most about fall? Is it the pumpkins? Are mums in orange and yellow tones are your favorite thing about the season? Whatever it is that draws you to this season, you're sure to find a wreath idea below that includes your fall favorites!
WARNING!
With so many great products at Lowe's, you may not be able to stop with just a wreath for the front door. They offer great values on the latest in decor trends for all seasons including fall. No more keeping up with the Joneses. The Joneses are going to be keeping up with you! Or the Smiths! Or whoever your neighbors may be! And you can tell them you did it all with a little help from Lowe's!
Full On Fall Wreath
This wreath has so many beautiful seasonal touches and it can be made in mere minutes! Your neighbors and friends will think you spent hours pulling it together.
Supplies
Steps
Use twine to secure one end of the garland to the front of the grapevine wreath.
Continue wrapping the garland around the front of the wreath and securing it with twine.
Once you reach the end, secure it to the wreath with twine. Snip off any excess pieces of twine.
You may want to shift the pumpkins and flowers around on the garland to get the exact arrangement you'd like and to hide the twine. So easy!
Mossy Succulent Wreath
Here's a whimsical, subtle wreath that will blend in with any home decor.
Supplies
Steps
Remove each succulent from their container and shake off any excess dirt from the roots.
Lay the succulents out into the desired arrangement. Pin each to the wreath form with a greening pin.
Lightly mist the succulents about once each week.
Mum's the Word Wreath
This wreath is sweet and simple with a few springs of fresh mums snipped from a large flowering mum plant.
Supplies
Steps
Snip off a few stems from a flowering mum. You can still use the rest of the plant for decoration on your front porch.
Cut off 12 in. pieces of floral wire. Wrap one end of the wire around each flower stem and use the other end to secure it to the wreath. Try to hide the wire as much as possible.
Finish the wreath with a burlap bow or burlap flowers.
Straw and Gourds
Wanting a wreath that has more of a rustic farm or country feel? This simple and unique wreath is perfect!
Supplies
Steps
Secure gourds to the front of a straw wreath by placing them on the wreath and gently hammering floral picks through the gourds and into the wreath.
Continue attaching gourds until you have the desired look. You can place them all in one area or around the entire wreath.
Fall Garden Wreath
It's a garden of pumpkins, cabbage, and kale with this creative and fun wreath! It would even make a perfect decoration for your fall garden on a shed, potter's bench, fence, or gate. I'm so glad Lowe's had such a fun selection to make this fun wreath happen!
Supplies
Steps
Plant cabbage and kale into small clay pots.
Secure the pots onto the wreath form with a loop of heavy floral wire that's been pulled and twisted at the back.
Attach a few small ornamental pumpkins with wire. Water when the soil is dry. Hang and enjoy!
Happy fall!