My name is Alison and I am a busy mom who's addicted to muffins. And cranberry cheesecake muffins? They'll make you a muffin addict too — wink, wink!
This shop has been compensated by Collective Bias, Inc. and its advertiser. All opinions are mine alone. #StockUpWithPost #CerealAnytime #CollectiveBias
There. I said it. Whew!
And since I'm admitting my addiction, I might as well share a favorite muffin recipe of mine — cranberry cheesecake muffins!
Oh, and if you're a HUGE berry fan, definitely take a few second and check out these AMAZING berry recipes!
But it takes special, extrordinary muffins be only "addiction"list. Think the "A" list of the muffin world. And only those muffins get mentioned and photographed for my blog. They're that special — wink, wink! But, if you need even more cheesecake added to your adventurous life, definitely check out this double layer, pumpkin cheesecake. It's ahh-mazing, ya'll. Just sayin'
And these muffins have a fun, "secret" ingredient that you probably have sitting in your family's cupboard!
Remember these blueberry cheesecake muffins? Mmm-hmmm….I sure do. They have a crunchy granola topping that makes them extra indulgent.
I went with that same muffin inspiration and created a cranberry cheesecake muffin version with an even crazier topping — Great Grains® Cranberry Almond Crunch. With hints of cranberry, crunchy almonds, and flakey multigrain clusters, Great Grains® Cranberry Almond Crunch cereal puts a BERRY delicious spin on your favorite muffin recipe! And you can grab all the ingredients at Walmart! I also purchased the New Cinnamon PEBBLES™and Honey Bunches of Oats® with Real Strawberries. You can click on the cereals in the image below to buy them now!"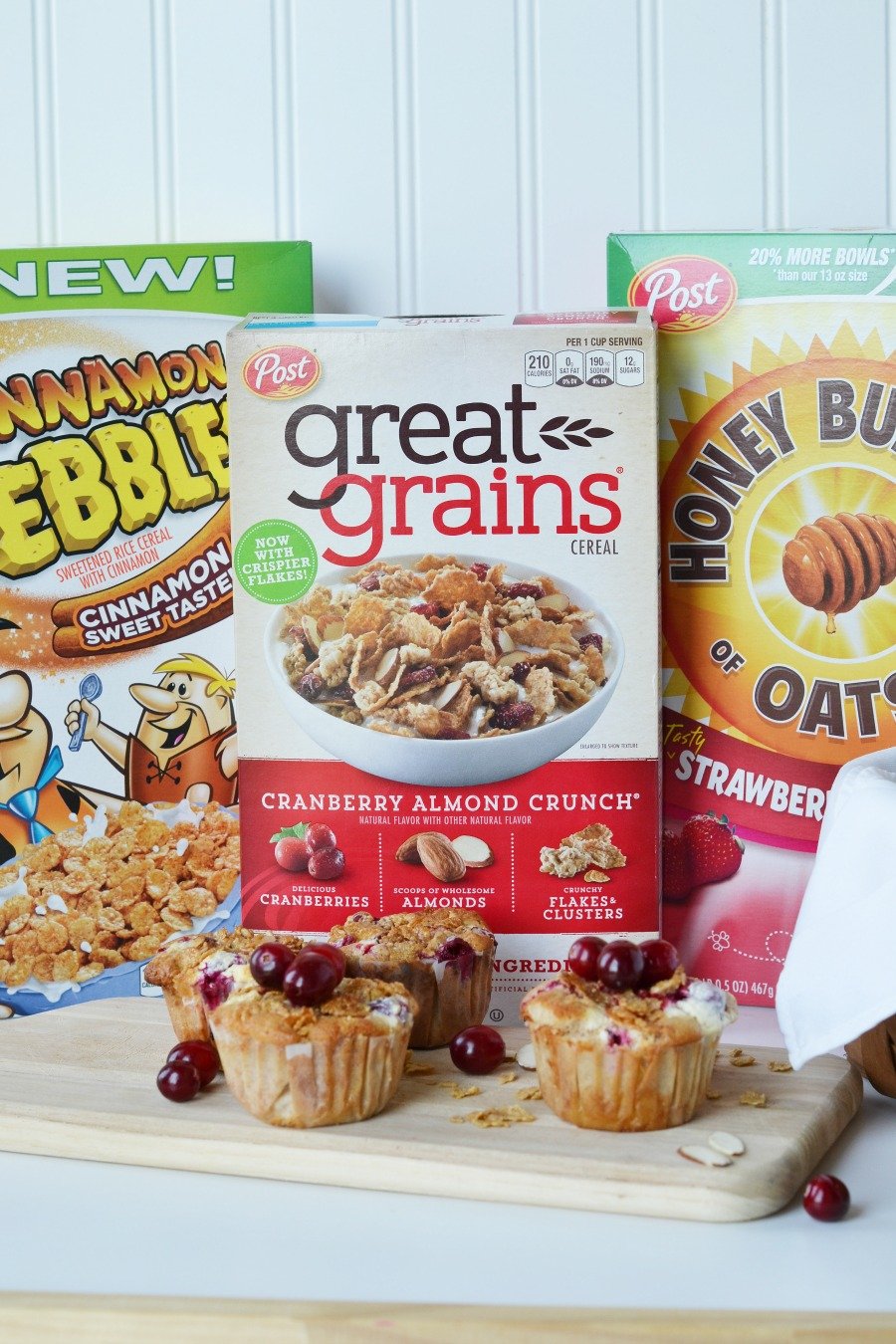 Oooh! And you can earn $1 cashback when you purchase Great Grains and Honey Bunches of Oats Strawberry cereals at Walmart with these ibotta offers.
Make sure to check out more exciting offers for other Post cereal varieties like Shredded Wheat!
And I'll let you in on a busy mom meal-planning hack of mine that has become a huge time-saver for me. But promise you'll share it with all your mom friends too! Pinky promise!
Life-changing mom hack:
Make muffins the night before if you know you'll have a crazy morning.
Brilliant, right?
Morning workouts, showers, quiet time and replying to emails can all leave little space for preparing breakfast. That's why using the quiet, slower-paced evening can be a huge stress-free, time-saving option for moms!
Oh, and cranberry fans will love this lazy breakfast idea too — cranberry granola bars! Live smarter, not harder….right?! ;0)
Imagine waking up and knowing a yummy breakfast muffin is already prepared and ready-to-eat. You may even have time to enjoy a cup of coffee with it — yay for that perk!
And don't worry — these muffins please just about anyone. Creamy cheesecake yumminess hides inside each hearty muffin. No more tummies growling before lunch time!
Muffins are a fun and yummy way to get school mornings started off right!
And muffins are easily portable if you need a "to go" breakfast or snack!
Our family has been huge fans of Post cereal for years. Post Consumer Brands have a cereal for everyone in the family! Just ask our family of eight! And we're constantly using our favorite cereals in recipes too!
And with all the back-to-school expenses Post cereals are a budget-friendly option for moms with kids! It's a win-win decision!
When you're planning for the school year, consider making a family "stock up trip" to Walmart! You can shop for school supplies and meal ingredients all in one trip!
This shop has been compensated by Collective Bias, Inc. and its advertiser. All opinions are mine alone. #StockUpWithPost #CerealAnytime #CollectiveBias

Preheat oven to 375 degrees Fahrenheit.

In large bowl, cream butter and one cup sugar until light and fluffy. Add two eggs, one at a time, beating well after each addition. Beat in milk.

In another bowl, whisk flour, baking powder and cinnamon; add to creamed mixture just until moistened.

Fill 16 greased or paper-lined muffin cups one-fourth full.

For filling, in another bowl, beat cream cheese, 1/3 cup sugar and one egg until smooth.

Add a tablespoon of cheesecake into the center of each muffin before baking.

Stir crushed cereal into 1/4 cup of honey until completely incorporated.

Spoon one teaspoon of cereal mixture on top of each muffin and gently press the granola into the muffin.

Let muffins cool for about 10 minutes before removing from muffin pans.