This post has been compensated by Collective Bias, Inc. and its advertiser. All opinions are mine alone. #NixUltra #CollectiveBias
Getting ready for the start of another school year?
I thought so!
The exciting "back to school" season is here!
You've bought new supplies, stocked up on snacks, and prepped the backpacks, BUT have you prepared for an all too common nuisance that can crawl along during this busy time of year.
Dare I say it?
But have you prepared for the looming threat of…(gulp)…head lice?
It's reported that early fall is the worst time for head lice outbreaks and it's the second leading cause of absenteeism for students.
Yikes!
There's no need to panic though.
Today I'm sharing several proven tricks and tips for getting your kids lice free — AND FAST!
Before you start scratching your head or running to check your child's head (or your own for that matter), let's clear up a few things about these dreaded pests.
A Few Fast Facts About Lice
Head lice can find their way into any scalp regardless of the person's socioeconomic status or personal hygiene. In fact, they prefer clean hair.
Lice do not cause any lasting damage and they do not spread disease. Sigh. I know that's a relief.
Lice do not fly or even jump. They move by crawling and are usually spread through head-to-head contact.
There are simple steps you can take to prevent and treat head lice.
Before we get too much into how to treat a case of head lice, let's look at several practical and completely doable steps you can take to keep them from ever becoming a problem for you and your child.
The best route really is prevention!
Prevention Tips
Since lice are most commonly spread through head-to-head contact, talk to your child about not putting their head up against anyone else's head.
Discourage your child from sharing hats, hair items, or clothing with other children.
Hair products can deter lice so use hairsprays and gels in your child's hair.
For girls, put their hair up into a ponytail or fun braids. You can even check out this post for some really cute hairstyles for girls.
Stay informed! Nix® has an online Lice Tracker that lets you know about outbreaks in your area.
Check your child's scalp routinely to catch problems before they become a more severe problem.
Not sure if it's lice?
Click here for an ID Tool that will guide you through checking your child's head.
Have you just discovered that your child has lice?
Never fear!
Here are effective ways to quickly triumph over these unwanted pests.
Treatment Tips for Lice
The first step is to treat your child's head. For this, you can use Nix Ultra® Super Lice Treatment.

Nix® is the #1 Pediatrician recommended brand and can easily be found at your local Walmart.

It's fast, easy, non-toxic, gentle on skin, and pesticide free. It's also effective against the resistant "super" lice that old pesticide treatments aren't able to eliminate.

Remove nits with a fine-tooth comb. Nix Ultra® Super Lice Treatment comes with a comb inside the box.

You'll want to comb through the hair from root to tip going through it one small section at a time.

Focus on areas around the ears and neck where lice tend to gather.

Check everyone in your family's heads and treat as necessary. Call your child's school and the parent's of friends they've been around. You want others to be alerted so they can proceed with checks, prevention, and any necessary treatments.

The last thing you'd want is for your child to get reinfested by someone they spend time with just because they didn't know they too have lice.

Wash bedding, clothing, and pillows in hot water and place them in the dryer. It's a good idea to repeat this until you're in the clear.
Seal up other items. Hair bows, stuffed animals, and any items that can't be washed will need to be placed in plastic bags and left sealed up for two weeks.
Focus on soaking. Soak combs and brushes in hot water after every use.

Get out your vacuum. Vacuum floors, mattresses, and furniture particularly around where your child sleeps.
Keep combing your child's hair with the fine-tooth comb daily for the first week. You can go down to every other day during the second week after treatment. Be consistent with this!
Check and re-check. Be vigilant about rechecking your child's head and retreating if nits or lice present after 7 days.
Oh, and here's some good news if you do find yourself dealing with a dreaded case of head lice. You can save $3.00 on a Nix Ultra® product by clicking here.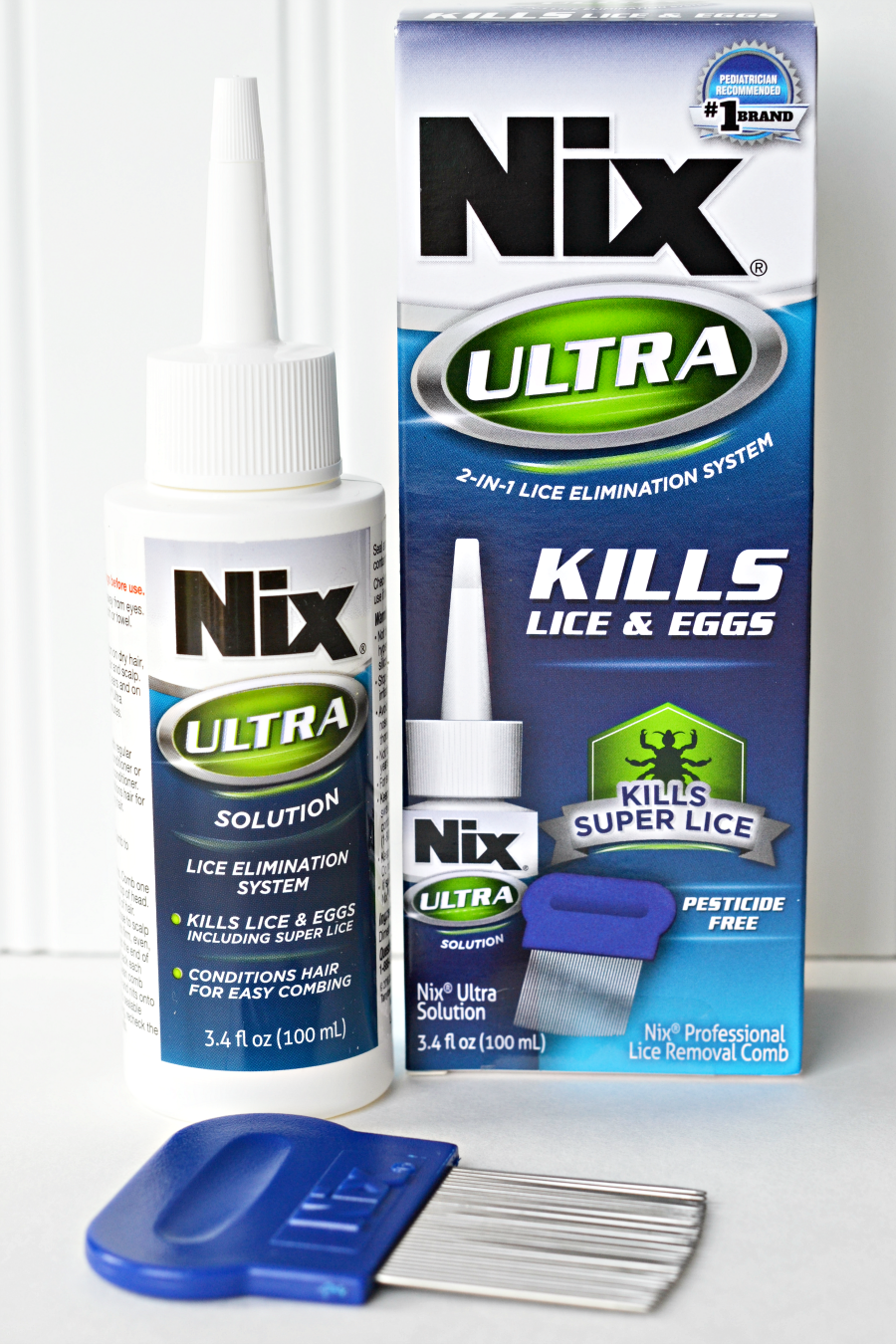 Getting rid of lice shouldn't break the bank.
I hope you and your family don't have to deal with this nuisance during the school year, but if an unfortunate case does come along you can rest assured that you'll be prepared with these tips for prevention and treatment.
And Nix Ultra® will be there to help every step of the way.
You can grab Nix Ultra® at your local Walmart!